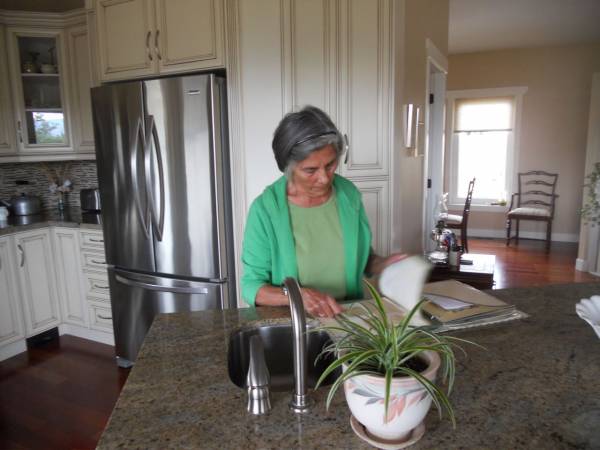 I had already filled my plate with two scrumptious looking desserts – a pineapple cheese cake by Lynda and strawberry shortcake with fresh strawberries and whipped cream by Linda. But as I turned away from the Sedona Heights potluck table, my sister-in-law Lisa said, "Spring, wait, you have to try Olga's lemon cream pie." And so I did. And well, let's just say, the trio lived up to my dessert eating philosophy: If you're going to drown, drown in the Ganges. Olga was kind enough to share her recipe, which can easily be doubled she says. Two pies are always better than one.
Olga's Lemon Cream Pie
1 graham crust pie shell
1 cup graham wafer crumbs
1/2 cup brown sugar
1/4 cup melted butter
Mix all together and press into pie plate. Bake at 350 degrees F for 8 minutes. Cool.
Pie Filling
1 1/4 cups sugar
6 tblsp cornstarch
1/2 tsp salt
3 medium egg yolks, slightly beaten
2 tblsp freshly grated lemon peel
1/3 c freshly squeezed lemon juice
2 cups hot water
1 tblsp butter
1 cup sour cream
1 cup whipping cream, whipped, sweetened
Combine all ingredients, except sour cream and whipping cream in a sauce pan. Bring to boil over medium heat, stirring constantly. Cook 2 to 3 minutes. Cool completely. Add sour cream, beating until smooth. Pour into pie shell. Chill until set. Spread whipping cream over top. Then drown in the Ganges my friends!