A couple years ago, my whole family spent Christmas at my brother's condo on Apex Mountain in the Okanagan. I grew up skiing there, and it's still my favourite mountain, even though it has changed a lot. Back then we used to slide down the bunny hill in the evenings, on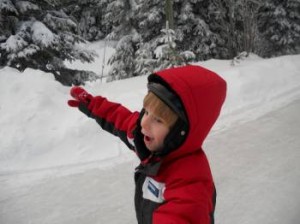 trays from the cafeteria. Now they have a full-on tube park, open night and day. Not sure who loves it more, me or my young nephew. They also have a skating rink. There was a friendly hockey game in progress when we were there, so we headed over to the skating trail that loops through the forest. It was absolutely beautiful, with snow laden trees and a little creek running along side us.
The next day, I went cross country skiing with friends, a ten minute drive away. Some of the gang went downhill skiing. There's a range of runs and lifts and no line-ups! The weather was perfect, so was the snow.
Heading up to the Okanagan for Christmas next week. The whole family together again. Can't wait to hop into the inner tubes with my nephew.